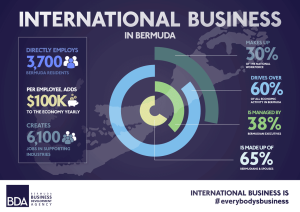 February  25th – March 1st is International Business Week a joint initiative to connect Bermuda's young people with the island's global companies.
Excellent resource book available in all schools and the Ministry of Education
Bermuda Agency Descriptions
ASSOCIATION OF BERMUDA INTERNATIONAL COMPANIES (ABIC)
Through partnerships with Regulatory, Government and Professional Organizations, ABIC's mission is to promote a sound business environment in Bermuda for the international business and the Bermuda community and to advocate for balanced government policies that maintain Bermuda as a well-respected domicile of choice.  ABIC is the voice of international business in Bermuda.
ABIC has 110 members all are international companies with a presence in Bermuda.  ABIC works with Government Ministries and Departments, eg Immigration, Finance, Education, to ensure the Bermuda business environment remains friendly to IB.  ABIC does not work to bring new international business to Bermuda and they do not do regulatory and tax work in other jurisdictions, ie USA/Europe, like ABIR.
ASSOCIATION OF BERMUDA INSURERS AND REINSURERS (ABIR)
ABIR's mission is to represent the public policy interests of Bermuda's Class 4 insurers and reinsurers around the world, giving special priority to regulatory action in Bermuda, Europe, US and international regulatory forums; and to promote Bermuda's Class 4 reinsurers as the best in the business in ceding insurer forums.  ABIR has 25 members, all are Class 4 insurers.
ABIR efforts are focused on regulatory and tax in US and Europe and in working with the BMA on regulatory equivalency, Solvency 2.  ABIR does not work to bring in new International business to Bermuda and unlike ABIC, their lobby efforts are mainly focused overseas.
BERMUDA BUSINESS DEVELOPMENT AGENCY (BDA)
The Bermuda Business Development Agency (BDA) encourages direct investment and helps companies start up, re-locate or expand their business in Bermuda. An independent, public-private unit, BDA connects prospective business to industry professionals, regulatory officials, and key contacts in the Bermuda government to facilitate domicile decisions. BDA also supports existing companies on the island to foster an environment for economic growth and job creation.
BERMUDA MONETARY AUTHORITY (BMA)
The Bermuda Monetary Authority (the Authority or BMA) regulates Bermuda's financial services sector.
The Authority was established by statute in 1969. Its role has evolved over the years to meet changing needs in the financial services sector. Today it supervises, regulates and inspects financial institutions operating in the jurisdiction. It also issues Bermuda's national currency, manages exchange control transactions, assists other authorities with the detection and prevention of financial crime, and advises Government on banking and other financial and monetary matters.
The Authority develops risk-based financial regulations that it applies to the supervision of Bermuda's banks, trust companies, investment businesses, investment funds, fund administrators, money service businesses, corporate service providers and insurance companies. It also regulates the Bermuda Stock Exchange.
BERMUDA INTERNATIONAL LONG TERM INSURANCE AND REINSURANCE (BILTIR)
BILTIR was created to serve as a formal association representing the long-term insurers and reinsurers in Bermuda.  The primary focus is to act as an advocate for Bermuda's life and annuity industry for public policy that supports the industry marketplace, including regulatory requirements, other Bermuda Monetary Authority or Bermuda government issues and tax matters with various jurisdictions.  BILTIR strives to provide a consistent and coherent voice for concerns of the long-term (re)insurance sector in Bermuda.
BERMUDA CHAMBER OF COMMERCE (BCC)
The Bermuda Chamber of Commerce is a non profit, apolitical organization whose members share a common goal, to advance the commercial, industrial, civic, trade and general interests of Bermuda and to foster the spirit of free enterprise.
The BCC membership includes most local business sectors and they focus on building and supporting local business.  ABIC started as the International Companies Division of the BCC, separating out as ABIC in 2001.
BERMUDA EMPLOYERS COUNCIL (BEC)
The BEC was formed in 1960 in the interest of dealing with the emerging complexities of labour relations due to the formation of trade unions in 1950.
As in other countries, the BEC is classed as the National Employers Organization representing both union and non-union member companies, large and small businesses and local and international companies.  BEC relies solely on the financial support of the membership through an annual fee structure.  Their role is to represent employers on any matter related to employment conditions, the work place, and national issues affecting the work place.
BERMUDA INSURANCE INSTITUTE (BII)
The roots of the Bermuda Insurance Institute (BII) go back to 1970 when the Bermuda Insurance Diploma Association (BIDA) was formed by 12 leading insurers. These leaders envisioned future growth in the Bermuda market, and recognized that there was a need for a well trained work force that would be ready to fill some of the needs presented by the expansion. Through the collaborative effort of the executives of these leading insurers, a movement began to ensure that people involved in the Bermuda insurance market, and those that were interested in pursuing careers in insurance had the opportunity to study insurance locally.
The transition from the BIDA to the BII as we know it today occurred during the mid-1970's. From those early days, the objectives of the BII were clearly set out and remain steadfast today:
to create and maintain a central organization for people engaged in or associated with the insurance industry,
to hold seminars and workshops on topics related to the insurance industry,
to encourage and assist the study of any subject bearing upon any branch of insurance, and to promote social interaction amongst members.
Bermuda: Where Business Happens