The Association of Bermuda International Companies proudly announced the 19 recipients of the 2021 ABIC Education Awards.
ABIC is one of the largest scholarship providers offered in Bermuda. Now in its 44th year, ABIC is very pleased to offer scholarships to those wishing to pursue undergraduate or graduate studies in an international business field. Supporting over 700 students, ABIC continues to help educate individuals that might not have had the opportunity to study abroad.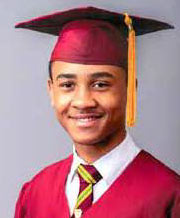 Stefan Ackah Simons
Stefan graduated from Bermuda Institute in 2019 and is currently attending Oakwood
University majoring in Accounting with a minor in Spanish. At Bermuda Institute he was
senior year Vice-President, Deputy Head Boy and House Vice-Captain and was an honor
student, Prefect, and part of the National Honors Society. His dedication to volunteer work
involved assisting Hope Homes, the HSDA feeding program, Operation Reachback and he
was an active participant and graduate of Future Leaders. He is active in his church and
guided by spiritual principles, committed to academic excellence and his strong work ethic
enables him to set high academic and personal goals. Upon graduating from Oakwood
University, Stefan plans to obtain a CPA and give back to the community by mentoring other
students and inspiring individuals to budget and create personal financial stability. One of
his favorite quotes is taken from Tom Badett and it states, "In school you're given the lesson,
then the test. In life you're given the test, then the lesson."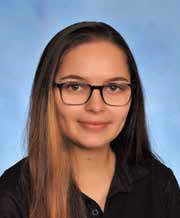 Brianna Correia
Brianna completed her Associate of Arts (Business Administration) Degree with Merit in May 2020 from Bermuda College. She is now a senior at Mount Saint Vincent University pursuing her Bachelor's in Business Administration, with a major in Accounting and a minor in Finance. While attending Bermuda College, Brianna was inducted into the Phi Theta Kappa Honors Society and she volunteered as an  accounting/finance tutor. It brings Brianna joy to assist her peers who may need help with finance and accounting questions. Throughout her academic endeavors, she has been enrolled as a full-time student while also being employed full-time. After graduation, Brianna intends to seek employment within the Bermuda Insurance/Reinsurance market where she will actively reciprocate and expand on all the support that she received during her academic pursuits. She also hopes to continue building up her peers and the future Bermudian generations through tutoring and mentoring. Her proven multi-tasking and organizational abilities are what she attributes to her continued success and these are the skills she hopes to help others master.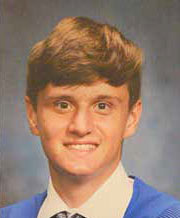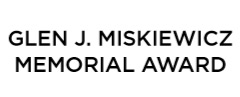 Joshua Blee
Joshua graduated in 2021 from Mount Saint Agnes Academy with Honors with Distinction and was named the Valedictorian of his class.  He was a member of the National Honor Society and was treasurer of the student council in his senior year. In the fall he will be attending Dalhousie University in Nova Scotia where he will be pursuing a Bachelor of Commerce majoring in either accounting or finance. Upon completion of his studies Joshua plans on returning to Bermuda to begin his professional career at one of the international firms located on the island.  Outside of school Joshua participates in various athletic and community-based activities. He has trained and competed locally and has represented Bermuda abroad in both volleyball and basketball.  Over the past ten years Joshua has been an active member of the scouting movement.  He has completed over 100 hours of community service most notably at the St. Vincent DePaul Loaves and Fishes program as well as Meals on Wheels.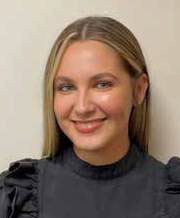 Cassandra DaPonte
Cassandra is a 2020 honours graduate of Cedarbridge Academy and has completed her first year at Bermuda College working towards an Associate Degree. In September she will be attending Birmingham City International College in the UK to complete her BA (Hons) Business Management with a major in Finance. While at Cedarbridge Academy Cassandra held the positions of Junior Student Leader, Gavel Club member, Prefect and she was a player on the CBA Wildcats Volleyball team. She held the Ministry of Education's College Promise tuition award during while at Bermuda College. In the spring of 2019 Cassandra had the opportunity to participate in a career pathway program at Deloitte where she spent approximately 6 weeks obtaining a meticulous interpretation in the Financial Advisory department and currently she is a full-time 'DEEP' intern. Upon completion of her degree, Cassandra is set on returning home to start a career in the financial sector while commencing studies towards a Chartered Financial Analyst designation.  Cassandra believes that 'Where there is no struggle, there is no strength'. She trusts that strength gets accumulated after facing struggles in one's life.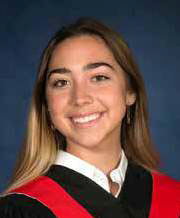 Ellie Cordeiro
Ellie is an IB graduate of Warwick Academy's Class of 2020, which she then followed with a gap year in Switzerland at Neuchatel Junior College (NJC). Ellie is looking forward to attending San Diego State University in the fall, planning to major in Global Development and Human Geography. Throughout her time at Warwick Academy and NJC, Ellie consistently maintained the honor roll whilst also being appointed Student Prefect, and most recently, Deputy Head Girl. Outside of school, Ellie has found a passion for dance. She spent 13 years of her life at In Motion School of Dance and during that time, she became a core member of the Senior Company, as well as a role model for the younger dancers. Ellie is actively trying to make her community a better place. She created a reading program for the Primary Department at Warwick Academy; volunteered herself as a choreographer for her school plays; and even painted a mural for her school garden. Ellie strives to be a leader in every situation she finds herself in and encourages those around her to do the same. Upon completing university, Ellie plans to return back to Bermuda and pursue a career within the Re/insurance sector.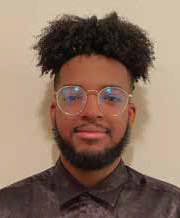 Malachi Dates
Malachi is a 2019 graduate of Cedarbridge Academy. Recently, Malachi has graduated from Sheridan College – Pilon School of Business in Ontario, Canada with his Ontario College Diploma in Business Accounting. He is now in his second year in the pursuit of his Honours Bachelor of Business Administration-Accounting at Sheridan. He plans on continuing his studies even farther so that he may become a Chartered Professional Accountant (CPA), and pursue a role in the accounting industry. When Malachi first attended Sheridan, he was pursuing a career in Human Resources, but took an introductory accounting course in his first semester. He found that he enjoyed the challenges that accounting brought, and subsequently changed his major. Since then, Malachi has repeatedly been the top of his class and has excelled in his studies. Upon the completion of his studies, Malachi plans to return to Bermuda so that he can cultivate the knowledge and skills needed to become a key talent in the accounting industry at one of Bermuda's many respected firms.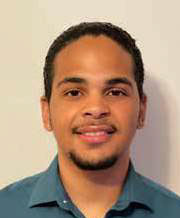 Gianni Desilva
Gianni is currently attending Florida Atlantic University where he is pursuing a Bachelor of Business Administration with a major in Management Information Systems.  From a young age he has been passionate about anything that involves computers and technology.  After graduating from The Berkeley Institute he decided to reach out to Bermuda Monetary Authority where he secured an internship in the Information Technology department to further his knowledge in the industry.  During Gianni's educational journey at FAU he has devoted some of his spare time by being an active member in the National Society of Collegiate Scholars, National Society of Leadership and Success and the Management Information Systems Association. Upon the completion of his degree he plans to return to Bermuda to establish his career in the Information Technology industry.  Additionally, once he has established himself, he plans to support organizations that assist students that are interested in the Information Technology field.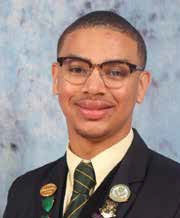 Andreaz Glasgow
Andreaz is a graduate of The Berkeley Institute with Honors, was Head Boy, Green House Vice-Captain, Student Council President, Peer Mediator, Garden Club President , and Prefect in his senior year and he will be pursuing a Bachelor of Business with a major in Marketing & Management at Long Island University in September. Andreaz has been interested in a career in business for a long time and in the 9th grade he further learned about establishing and operating a company through Virtual International Enterprise and is now hooked. Throughout his educational journey he has always been on the honor roll and received accolades for his hard work. Andreaz enjoys the quote from Winston Churchill which says, "Success consists of going from failure to failure without loss of enthusiasm." And while he never defines his obstacles as 'failures,' he marks his success by his repeated perseverance through adversity. During his 4 years at The Berkeley Institute, Andreaz has given back over 250 hours to the community. Upon completion of his degree, Andreaz intends to come back to Bermuda and establish a firm which specializes in business consulting, marketing, and design while giving back to the Bermuda community in every way he can.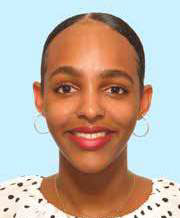 Tessa Dill
Tessa is a 2019 BHS IB Diploma Graduate and has recently completed her second year at the University of Hertfordshire, pursuing a BA (Hons) Human Resource Management degree. In Tessa's first year, she received the Rising Star Award 2020 and grade Distinction for The Charted Institute of Marketing, an optional course she undertook. Becoming a Student Representative and receiving the Success Award 2021, were the highlights of Tessa's second year. During her time at BHS, Tessa was a School Admissions Ambassador, Senior Mentor and Leader of a Non-Bullying Club. Additionally, Tessa enjoyed playing netball and basketball and received The Denton Hurdle Award for being an avid sports person. Outside of school, Tessa was Rotary Charity Club Manager, engaged in community service and participated in a Round Square Community Service Project in Vietnam. Upon graduating with a Bachelor's and Master's degree, Tessa will return to Bermuda and secure an HRM position. After which, Tessa hopes to start her own company hiring Bermudians and providing scholarship opportunities to help pave the way as others did for her.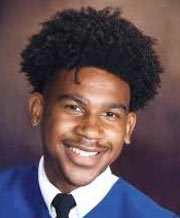 Christen Lugo-Elibox
Christen is a 2021 graduate from The Calverton School in Maryland. He achieved the English award and the Outstanding Citizenship award. He is an excellent student who is hardworking and driven. Christen will be attending the University of Mount Olive in North Carolina to pursue a degree in business management, and he is also minoring in sports management. He is passionate about football as he has played the sport since the age of 4 and has been recruited to play on the university's team. He enjoys teaching others and has worked in different camps to help younger players to not only become better at football but to become better people. One day, Christen hopes to be involved in Bermuda's business sector. He looks up to the late Kobe Bryant because of his excellent leadership and determined mindset. The quote Christen lives by is: "The most important thing is to try and inspire people so that they can be great in whatever they want to do." – Kobe Bryant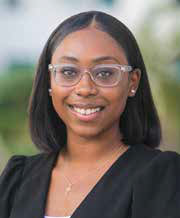 Cree Dunn
Cree graduated from the International Baccalaureate Diploma program at Bermuda High School in 2020 and is heading to the University of Strathclyde where she will study a Bachelor of Arts with honours in Journalism, Media and Communications as well as Economics. Cree's dedication and hard work are evident both within and outside of the academic arena having been a member of the basketball and debate teams at BHS. She has completed her Gold Duke of Edinburgh award, has been a member of Bermuda's Youth Parliament, a member and captain of the national debate team and a volunteer with YouthNet and Rotary Interact. Cree is regarded as a mature, responsible student by both teachers and coaches. She is always willing to go the extra miles to achieve her goals and is always happy to help and support others.  Professionally, Cree has already begun to gain experience across industries having interned at Hudson Structured Capital Management and is currently interning at Conyers.  She remains active within the community and is the Junior Coach of Bermuda's national debate team.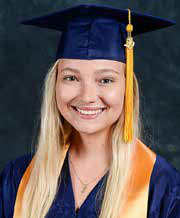 Isabella Murdoch
Isabella is a graduate of Saltus Grammar School and is going into her sophomore year at the University of Guelph where she is studying Environmental Governance.  Through her time in high school Isabella became increasingly aware of the effects of climate change on our environment and society.  This prompted her to become a member of the Eco Club where she was a part of many initiatives that led to substantial changes at her high school.  Isabella was also appointed House Captain and Senior Prefect of Service.  The importance of serving our community is something that Isabella believes to be an integral part of our lives.   Although her first year of university was done virtually she was awarded the Dean's Honors for both semesters and is excited to continue her studies on campus this September to take part in more hands-on learning for her degree.  Climate change has affected how companies do business, how decisions are made and how clients invest responsibly.  Her specialized program will allow her to return home to Bermuda to utilize her education to work in the international business industry to tackle climate solutions.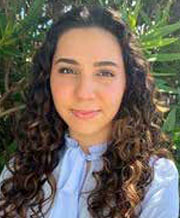 Ashley Pacheco
In 2020, Ashley graduated CedarBridge Academy as Salutatorian and a BSD honoree with Distinction and High Honours. She was a dual enrolment student studying at Bermuda College in her senior year of high school. In 2021, she graduated from Bermuda College with her Associate's Degree in Business Administration with Distinction, the Dean's Award, and as a Phi Theta Kappa member. Ashley will be continuing her studies at Dalhousie University to pursue a Bachelor of Commerce with a focus on Accounting. Ashley has always been an ambitious student committed to her academic excellence. She is a young lady offering a proven history of leadership as a Junior Student Leader, Prefect, Gravel Club Vice President, and Honours Society Vice President. Ashley is also involved outside of campus as a dancer, a volleyball player, and with volunteer work at her church. Ashley's love for math grew from a very young age and this passion has followed her since. After her studies in Canada, she hopes to return Bermuda to start her career as a certified professional accountant.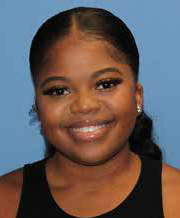 Nisha Smith
Nisha is a junior at St. John's University in New York City, where she is pursuing a bachelor's degree in Quantitative Risk Management & Insurance with a concentration in Actuarial Science. While there she has been able to maintain being on the Dean's list. Before attending St. John's University she attended the Bermuda College where she was exposed to the re-insurance industry and by attending many conferences her passion for the industry increased.  During her time at Bermuda College, Nisha had the privilege of being inducted into the academic based Beta Chi Upsilon (BCU) chapter of Phi Theta Kappa (PTK).  Nisha graduated Bermuda College with distinction and received the Most Outstanding Actuarial Science Graduate Award.  Nisha's ultimate goal is to return to Bermuda and become a qualified Actuary.  She is also determined to grow and become a role model for other Bermudian students and to give back as much as she can.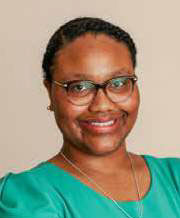 Samaria Paynter
Samaria is entering her third year as an accounting major at Acadia University this Fall.  She is currently working towards her Certified Public Accountant certification alongside professionals through the co-op program at her institution.  At the Berkeley Institute Samaria found her love of accounting which followed her to Bermuda College as a Dual Enrollment student.  In 2020 she graduated with   Distinction and as a Phi Theta Kappa member from the Bermuda College.  She was awarded the Most Outstanding Accounting/Finance student that year.  Simultaneously graduating from the Berkeley Institute as the Salutatorian and an Advanced Honors Summa Cum Laude student, Samaria is a high achiever.  Upon successfully completing her studies, she plans to travel to South Korea to study Korean at Sogang University.  Samaria then intends to return to Bermuda to work in the insurance industry to obtain the necessary skillset and experience to achieve her career goal of being a Chief Executive Officer.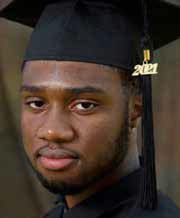 Nadir Young
Nadir is a 2021 graduate of Bermuda College and will be attending Acadia University this Fall to pursue a bachelor's in business administration with a focus in accounting. He is looking forward to career growth, exploring new cultures and expanding his network. Having firsthand experience Nadir understands that time management, hard work and determination are vital to one's success. Nadir attributes his success at Bermuda College to his academic advisor, Mrs. Lawrence. She became a pillar in his development by always encouraging him to become better and letting him know that he has a place in this world. Since the age of 5, Nadir has been a part of the Big Brother Big Sister mentorship program and he continues to stay in contact with them and gives his time and experience whenever he is asked. Nadir encourages anyone who knows a young person in need of a mentor or an adult looking to mentor, to join the BBBS family and grow our community. Nadir believes that with the help of ABIC's scholarship, he is on the path to obtaining his CPA, working in Bermuda's international business industry and having the opportunity to give back to his community.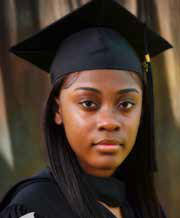 Owenea Roberts
Owenea was a dual enrollment student of The Berkeley Institute and Bermuda College. She graduated from Bermuda College with her Associates of Arts in Business Administration with Merit. At The Berkeley Institute she made Principal's Honors each quarter of her senior year and she held the leadership position of prefect.  Owenea gravitated towards accounting during her second year at Berkeley and her time at Bermuda College helped drive her interest even more. Owenea plans to obtain her Certified Public Accounting designation and work in the reinsurance sector.  Her overall career goal is to become a Chief Financial Officer.  Outside of school Owenea can be described as a strong minded and overachieving individual. She volunteers as a tutor to younger students and she has contributed hundreds of hours of community service over the years. Owenea has also participated in many co-curricular activities such as dance, basketball and knitting.  In the Fall Owenea will be attending Quinnipiac University in Hamden, Connecticut where she will work towards her Bachelors of Science in Accounting with a minor in Finance. She has been admitted into the 3+1 BS/MBA accelerated dual degree program.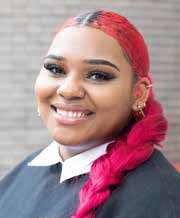 Cyana Burgess
Cyana is a recent graduate of Georgia State University, graduating summa cum laude with two bachelor's degrees in actuarial science and finance whilst also receiving an undergraduate certificate of language ability in Spanish. While at Georgia State, Cyana was involved in numerous student activities. She served as the President and Vice President Chapter Operations of the Kappa Chapter of the International Fraternity of Delta Sigma Pi and the Vice President of the Bermuda Delegates Association at GSU. Cyana was also a member of the Actuarial Students Association to increase her knowledge in the actuarial field. She was also a general member of the Caribbean Student Association (CaribSA) and Hands-On Atlanta. This Fall, she will continue her educational career by attending the University of Leicester to pursue a Master of Science in Actuarial Science with Data Analytics. Cyana's career goal is to qualify as a Fellow of the Institute and Faculty of Actuaries and pursue a career as an actuarial analyst in Bermuda's thriving life reinsurance sector.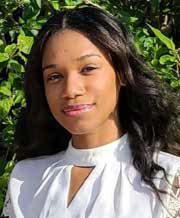 Kristin Gibbons
In 2019 Kristin graduated with Summa Cum Laude distinction with her Bachelor of Business Administration degree with a Management concentration. Shortly thereafter, Kristin secured a position in the Governance, Risk, and Compliance department of a fin-tech stock brokerage in the United States. There, she and her team members built out the first Fraud Operations department of the company. She did this while simultaneously maintaining her volunteer position at the American Cancer Society, which she has volunteered with for over five years. Currently, she is pursuing her MBA degree with a Marketing concentration at Keiser University. Upon graduating, she has aspirations of continuing to work in the compliance and regulatory sector, bringing the knowledge that she learned along the way back to Bermuda. Additionally, to give back to the local community, Kristin hopes to work with the Ministry of Education to incorporate real-world financial literacy classes into the primary and secondary education systems.